"Contribute to the needs of the saints and seek to show hospitality"  Romans 12:13
Jen Schmidt doesn't just practice hospitality, she pursues it!  She defines hospitality as "freely giving of ourselves, while granting others the freedom to be themselves." and offers many creative solutions to our usual excuses for failing to welcome others.
The best advice she has is, "just do it!"  Hospitality is not about having the perfect home or the perfect menu;  it's simply about welcoming others in and making them comfortable.  It's not about you at all– it's about others.  Her hospitality is radical;  it goes far beyond the usual dinner or potluck.  In her book, she discusses hospitality on the go (spread a blanket at the ball game and invite someone to sit with you), everyday moments (invite the people you just met at Chick-fil-A to visit you), adoption (make a stranger part of your family) and more.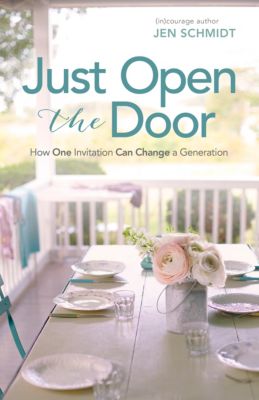 Throughout the book, the author has interspersed "Dear Jen" letters she has received with questions about hospitality and her answers. There are also a number of short essays by some of her family members. Each chapter is  followed by an "Elevate the Ordinary" list of ideas about everything from entertaining on a budget to creating a family mission statement.
I especially enjoyed a chapter about a time in her life when everything seemed to be going wrong.  Her family was struggling financially and there were several deaths in the family.  Jen says:
"I was forced to choose.  Declare His promises or disappear into my doubt.  Avoid doing life in community and the vulnerability that comes along with it, or wrestle my spirit to find ways to bring Him glory in the midst of it.  I needed to stay committed to opening my life up to others–actively loving God and loving my neighbor–even when I didn't feel like it.  Even when I couldn't afford it."
If you, like me, do not have the gift of hospitality, read this book.  You'll be inspired and learn many suggestions for hosting and welcoming.  Some of them are sure to work for you. You may also enjoy visiting Jen's blog, Balancing Beauty and Bedlam.
Verdict:  I give this book 5 stars.  For purchasing information go to the link below:
http://www.bhpublishinggroup.com/products/just-open-the-door