Jason Duesing, author and academic leader at Midwestern Seminary, does not use the term "mere" in the usual sense. He harkens back to a more ancient use in which the connotation is not "bare" or "trivial" but "central" or "essential."
In our world we are made instantly and constantly aware of so many tragedies and conflicts that it's easy to become cynical, indifferent and despairing. We are quick to "medicate, avoid conflict, exaggerate, deflect, blame and hide."  To counteract this, Duesing maintains Christians must remember and turn to our biblical sources of hope.
"Until Jesus returns, Christians should look down at their foundational gospel hope, look in at their fountain of living hope, look out at the need for a flourishing hope, and look up and focus on future hope."
His suggestions for focusing on hope include:  regular time with God's Word, Christian fellowship, singing, praying, remembering our purpose to share the gospel promise with others.
Mr. Duesing makes a strong, scriptural and theological case for continuing to live an active and hopeful Christian life.  This little book is  chock full of literary references, and if you love to read, as I do, you will no doubt find some new authors you are interested in checking out.  Lord of the Rings aficionados , take note!  Duesing is obviously a fan of Tolkien and uses this series to illustrate some of his main points.  He also loves to quote C.S. Lewis, J.K. Rowling,  and a host of other writers, theologians and philosophers.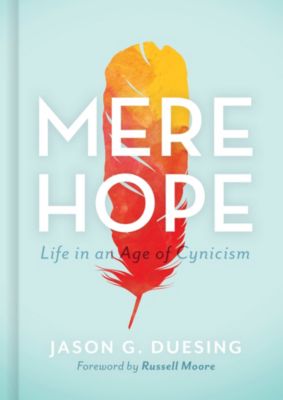 This author likes words, too, and you may learn some new ones.  Some are theological:  propitiation, for example;  others are just interesting — my favorite was eucatastrophe.  (I'll let you check out the book on your own to learn the definitions.)
In spite of his somewhat academic approach, the writing is clear and the main points are understandable.  My only concern is that many readers will become a bit bored with the many references to authors and works with which they are unfamiliar ( I didn't but that's the English major in me!)
Verdict:  Three stars
Check out the link below to learn more or order:
http://www.bhpublishinggroup.com/products/mere-hope