The Lutheran ladies received a free copy of this book in return for an unbiased review.  Ordinarily, I wouldn't have given it a second glance.  It is definitely geared toward Pastors and other ministry leaders involved in making major changes in their church or ministry.  However, since I am on the leadership team of our church and we are in the midst of a transforming process (Fanning the Flame), I found myself interested and excited to see what Jeff Iorg had to say about the process of change and how to lead people through it.
He begins by reviewing different definitions of leadership (our topic this month).  It's not as easy to pin down as you might think.  My favorite was:
"Leadership is a process in which leaders and followers raise one another to higher levels of motivation, accomplishment and living."
That is certainly what our congregation is trying to do through Fanning the Flame!
Dr. Iorg has led a number of organizations through major change.  His resume includes:  relocating a church, a church plant, major change in a Baptist Convention, and relocating and reorganizing a large seminary.  He uses his own experiences throughout the book to discuss the pitfalls and opportunities that are part of the process of change.  Also interspersed are brief testimonies from others (employees, laypeople, etc.) who have participated in some of these major changes.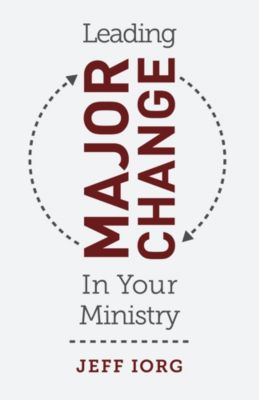 I especially appreciated his emphasis on servant leadership, and the necessity of providing pastoral care for followers.  He reminds readers over and over that change is an event, but transition is a process which can continue for some time after the change.  It can be difficult for many, it can require great sacrifice,  and a good leader needs to earn and retain the trust of followers throughout the entire process.  Followers are the people who must buy in and accomplish the change.  Everyone involved must truly believe that the mission matters most.
"Leaders intend real change–and that is often painful.  It causes organizational upheaval and personal angst.  Leaders' decisions sometime inflict pain on their followers.  Good leaders do not enjoy hurting others, but are responsible to make difficult decisions (in the short run) for the long-term benefit of advancing God's mission and the particular mission of the organization they lead."
Verdict:  I enjoyed this book, and will be passing it on to my husband and other leaders of our congregation.  It was readable and full of useful information and insights for those involved in change within a church or ministry.  However, it will appeal to a limited audience.  I give it four stars.  If you are interested in purchasing it, the link is below:
http://www.bhpublishinggroup.com/products/leading-major-change-in-your-ministry