According to Gregg Matt, senior pastor of First Baptist Houston and founder of Breakaway Ministries at Texas A&M University, difference makers are what our world needs most.  Difference makers understand that as Christians we are each called to do something.  We can each make a difference somewhere.  Throughout the book, he encourages readers to say this prayer:
"I was made for more than watching.  I have a history-changing, difference-making, life-giving, Spirit-empowered legacy to leave.  Jesus I ask you to work deeply in me and clearly through me as I pray, give, and go in your love.  I am a difference maker."
Difference making starts with the heart.  Difference makers have courage, point to their Savior, and are willing to meet all sorts of people, wherever they are in their life journey.  They are secure in their identity in Christ, and unashamed of who they are.  They are willing to risk everything for the glory of God and the well-being of others.  Rather than running from trouble, they run toward it and have peace in the midst of chaos because Jesus is with them.  They continually worship God.  They are completely dependent on God, who is the real difference maker.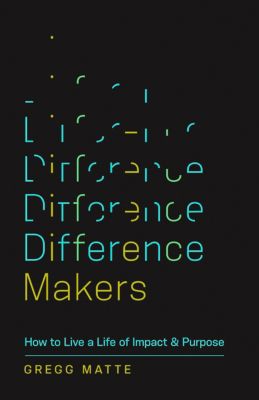 Pastor Matte illustrates each of these points with Biblical examples, and also draws on his own experience.  Too many of us have become comfortable with what he calls a sort of "lazy Christianity."  Believing that we are going to heaven when we die, we're content to sit on the sidelines and accept the status quo.  However, that isn't what we were created to do.  God wants to use us to make a difference in the lives of others.
Hopefully many Christians will read this book and take seriously our calling to "give and go" so that the Gospel is witnessed throughout the world.
VERDICT:  4 Stars.  I didn't learn anything new, but it was inspiring and Biblically sound.  It could be great reading for a small group study.
If you would like to purchase the book, go to this link:
https://www.lifeway.com/en/product/difference-makers-P005813792
The Lutheran Ladies received a free copy of this book in return for an honest and fair review – Disclaimer pursuant to FTC 16 CFR Part 255